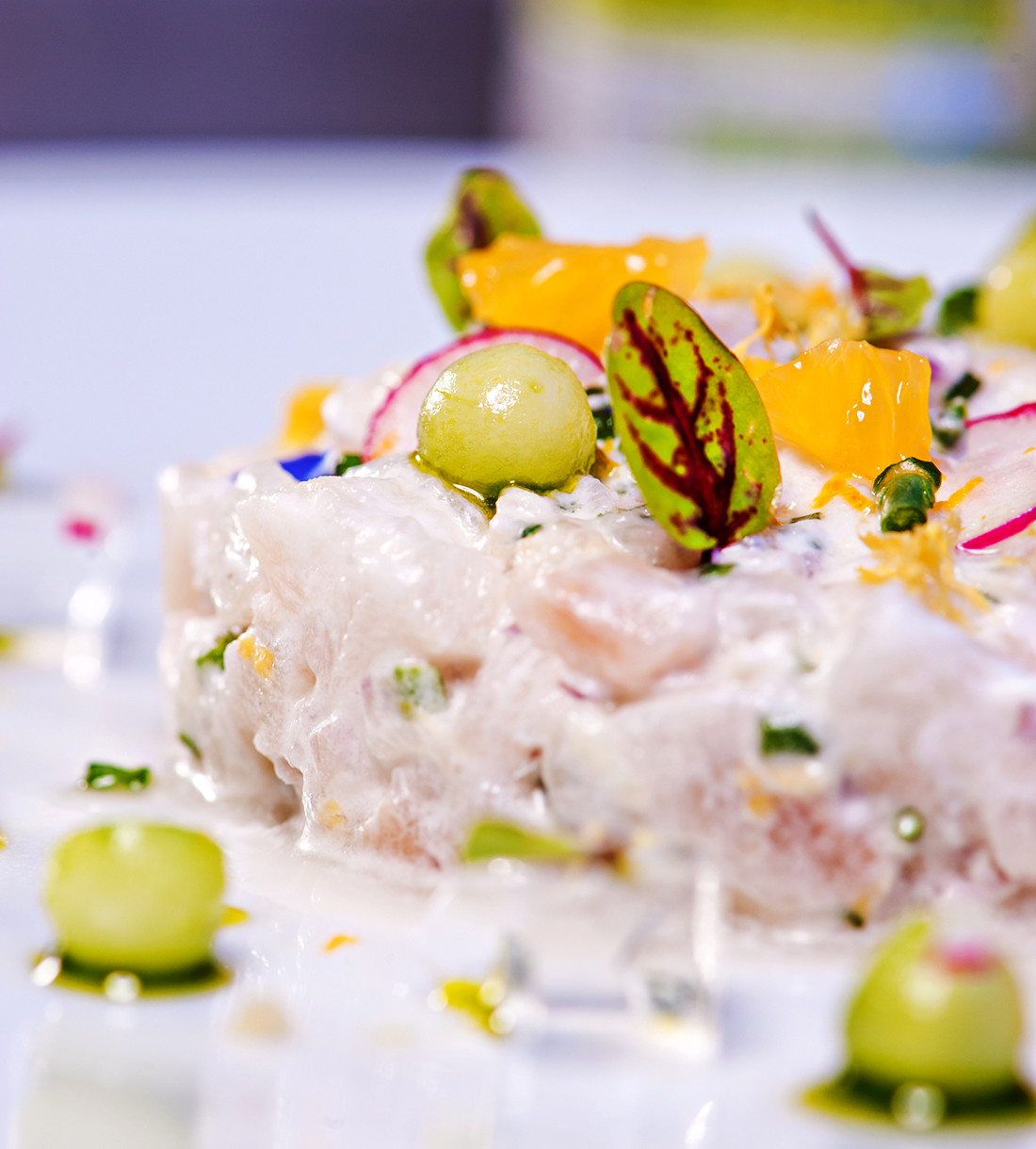 CUCUMBER TONIC WATER WITH SEA BASS TARTARE
Created by Cédric COULAUT,
Experience Sur Mésure, Cognac, France  ▶︎
A line-caught sea bass tartare marinated with citrus segments and a delicate gelee of ARTONIC Cucumber Tonic Water.
INGREDIENTS
(4 PEOPLE)
For the gelee:
4 gelatin sheets
1 bottle ARTONIC Cucumber Tonic Water
For the tartare:
600 g of line-caught sea bass
1 organic lime
2 tablespoons ARTONIC Cucumber Tonic Water
extra virgin olive oil
5 g fresh ginger
For the garnish:
half a cucumber
10 chive sprigs
1 orange
2 pink radishes
salt, freshly ground pepper
PREPARATION
Step 1: ARTONIC gelee
Soak the gelatin sheets in a bowl of cold water to soften them.
Meanwhile, pour a quarter of the bottle of ARTONIC Cucumber Tonic Water into a small saucepan and bring to a simmer.
Drain and squeeze out the jelly, then melt it in the pan off the stove. Lightly whisk and then add the rest of the ARTONIC while mixing. Pour the preparation into a deep dish and place it in the refrigerator.
Step 2: The tartare
Remove the skin from the sea bass fillet. Cut it in half lengthwise. Cut 3 strips in the thickness of each piece. Cut those pieces into thin strips, then dice. Place them in a bowl.
Using a microplane grater, grate over the fish the zest of the lime and the ginger. Season with olive oil and two tablespoons of ARTONIC Cucumber Tonic Water. Mix and cover with cling film. Set aside in the refrigerator.
Step 3: Prepare the filling
Peel the cucumber and using a small melon baller, make about forty balls.
Season them with salt and keep cool.
Chop the chives, peel the orange and separate into 6 sections then cut those into very small pieces.
Cut the radishes into thin rounds, season with salt and put them in the fridge. Take the ARTONIC jelly from the fridge and cut it in its dish using the tip of a knife.
Step 4: Finishing and presentation
Season the sea bass with salt and pepper, squeeze the lime over it through a colander. Then add three quarters of the cucumber balls and the chopped chives.
Mix everything and adjust the seasoning and the acidity with lemon juice if necessary.
Place the tartare in the center of the plates with a spoon and using a 6 cm round food ring. In a bowl, combine the remaining cucumber balls and the radish rings and the orange segments. Season with a drizzle of olive oil.
Divide everything harmoniously over and around the tartare. Finish by adding the cubes of ARTONIC Cucumber Tonic Water gelee and a drizzle of olive oil.