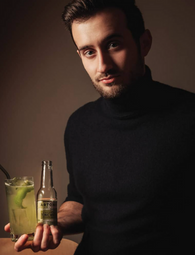 bastien.gardrat@gmail.com
Hi, I'm Bastien, a bartender from Cognac, France with a passion for wines and spirits. I was trained in New York and then worked mostly in Cognac, mainly for Martell. Nowadays, I also work with spirits and soft drinks companies, principally in the Spirits Valley (the Cognac region).
For this cocktail I was inspired by the « Hanami », a traditional Japanese custom of enjoying the beauty of cherry blossoms. I wanted to create a cocktail that inspires the sweetness of this season. A base of VSOP Cognac with fruit notes, green tea « Geisha flower » offered by Palais des Thés, with whom I have already collaborated on signature cocktails, and where we can find the famous Japanese cherry blossom.
I added a Williams pear nectar to make it more dense and bring freshness and a touch of acidity, an acacia honey syrup for roundness and its floral side, and an egg white to give texture, smoothness and aesthetic.
Finally, a top of Artonic Lemongrass Soda to give a slightly sparkling and lemony touch to spice up and « season » the whole. For the decoration, I chose a cherry blossom as garnish.